Topics Map > Instructional Resources > Qualtrics

Qualtrics - Support, Access, Sharing, Survey Limit
This document details: where to get Qualtrics support, how to log in, how to best share (collaborate / give access to) a survey, what to do if you cannot see a shared survey, how to remove the limit of 10 surveys, and how to request ownership of a survey be transferred to someone else.
Related KBs:
Qualtrics - Adding a Consent Form to Your Survey
---
Qualtrics support
To give someone with a UWGB account access to a survey / form
Cannot see survey on Qualtrics?
Remove Qualtrics limit of 10 surveys
Request (full) ownership transfer of Qualtrics survey
Logging into Qualtrics
Qualtrics provides excellent support documentation. Below is the link to Qualtrics Support as well as links directly to answers to common questions.
Here is the information for Qualtrics support:
Qualtrics Support
800-340-9194
support@qualtrics.com
7:00AM-6:00PM MDT
Getting Started: https://www.qualtrics.com/support/survey-platform/getting-started/survey-platform-overview/
Creating Questions: https://www.qualtrics.com/support/survey-platform/survey-module/editing-questions/creating-questions/
Using Piped Text: https://www.qualtrics.com/support/survey-platform/survey-module/editing-questions/piped-text/piped-text-overview/
Survey Flow: https://www.qualtrics.com/support/survey-platform/survey-module/survey-flow/survey-flow-overview/
Creating a Contact List: https://www.qualtrics.com/support/survey-platform/contacts/creating-a-contact-list/
Distributing a Survey: https://www.qualtrics.com/support/survey-platform/distributions-module/distributions-overview/
Analyzing Data: https://www.qualtrics.com/support/survey-platform/getting-started/step-5-analyzing-data/
Sign in with you NetID (same as Email, Canvas, or SIS) at
https://sis.uwgb.edu/surveyservice/
If the person has never logged in before, they will need to log in (at the address above) so Qualtrics creates their account



Then they can then log out and you can log in to share the survey

Click the drop down on the right-hand side of the survey you'd like to share and choose "Share Project"
The best way to add them is to search for their campus username
Campus usernames usually appear with a pound sign and "uwgreenbay" behind it: example: smithj#uwgreenbay
Sometimes these show up in all caps or all lowercase or some combination. As long as it has the #uwgreenbay it's the right one

Once you've selected them in the search bar, click the blue Add button
Check the boxes under Edit, View Reports, Activate/Deactivate, Copy, and/or Distribute depending on what you want them to be able to do to this particular survey.
Click Save
Other sharing options:
To share a survey with external Qualtrics accounts or at other institutions, review the instructions for sharing surveys provided by Qualtrics here:
https://www.qualtrics.com/support/survey-platform/my-projects/sharing-a-project/

Sometimes, well-meaning Qualtrics users will share/collaborate a survey with a colleague but the colleague cannot access it. This is generally because they have shared the survey to an external account with a UWGB address. Below is the CORRECT process for sharing a survey to an internal account.
The user receiving the survey needs to first log in to Qualtrics. Log in at https://sis.uwgb.edu/surveyservice/ NOT on the Qualtrics website. This login will create an internal Qualtrics account for you. Log in using campus credentials (the same ID and Password used for SIS).

The user sharing the survey can then log in and find the survey to share.
Using the menu by clicking the drop-down at the right-hand side of the survey, select Share Project

The the window that appears, search for the username of the person receiving the survey. The username should appear as: USERNAME (username#uwgreenbay)
You should not be typing your entire email address as this will send them an invitation to create an external Qualtrics account.

Select the user receiving the survey from the list of suggestions (this list will appear as you type)
Their username (in the format above) will appear in the box. Click Add

From here, select which sharing options you would like and click Save
Log out of Qualtrics. The person receiving the survey invitation will receive a campus email informing her that she has access.

Click the silhouette in the top-right of your account.
Select Account Settings.
Click Upgrade Account.
Navigate to the Upgrade Code field and paste in the word "Unlimited" without the surrounding quotation marks.

Click Upgrade Account.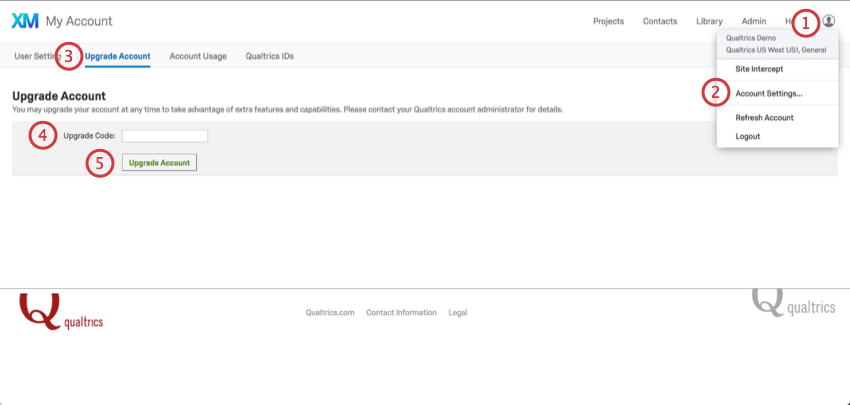 Many times, a survey will be owned by an account that is no longer with the university, by someone who has moved to a new office and no longer needs to manage that survey, or by an old "Web Development" or "Learning Technology Center" account. In these and a handful of other cases, survey ownership can be transferred.
A request for survey transfer should be submitted by email to helpdesk@uwgb.edu
The request should:
Come from the previous owner (if possible) or from a supervisor, manager, or administrator of the applicable department which will take ownership of the survey.
If the survey is a form embedded in a web page, this should be the supervisor of the division/department/etc. charged with maintaining this page as well.
Include a link to the survey itself (preferred if known) OR to the web page where the survey is embedded. And,
State who the new owner of the survey should be.
The Help Desk will create a ticket; please allow a full business day for Qualtrics admins to make the change.
Save